Books & DVD´s
(Click on book for more details)




Cafe Design, No. 2
Here is a collection of convivial cafés so unique and creatively designed they deserve a reference all their own. This extraordinary guide highlights dozens of establishments ranging from the elaborate and sophisticated to modest neighborhood pubs. The 250 full-color photos detail a cross section of themes and ideas ranging from romantic and intimate to hip and eclectic but all of them integrate food, art, and architecture in a memorable way. A tour that will delight the senses!
# Average Customer Review: 4.0 out of 5 stars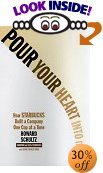 Pour Your Heart into It : How Starbucks Built a Company One Cup at a Time
Since 1987, Starbucks's star has been on the rise, growing from 11 Seattle, WA-based stores to more than 1,000 worldwide. Its goals grew, too, from the more modest, albeit fundamental one of offering high-quality coffee beans roasted to perfection to, more recently, opening a new store somewhere every day. An exemplary success story, Starbucks is identified with innovative marketing strategies, employee-ownership programs, and a product that's become a subculture. Whether you're an entrepreneur, a manager, a marketer, or a curious Starbucks loyalist, Pour Your Heart into It will let you in on the revolutionary Starbucks venture. CEO Howard Schultz recounts the company's rise in 24 chapters, each of which illustrates such core values as "Winning at the expense of employees is not victory at all." --This text refers to an out of print or unavailable edition of this title.

Home Coffee Roasting:Romance & Revival
Kenneth Davids provides an in-depth look at the evolution of roasting methods as well as the bean itself. The recommended roasting methods and instructions are easy to understand and follow. Filled with sample charts, journals, and definitions "Home Coffee Roasting: Romance & Revival" is a how-to manual that is written to encourage and guide connoiseur's bookshelf

Cappuccino/Espresso : The Book of Beverages
This book has every coffee beverage and is great for the beginner, or as a gift for the friend who just bought there first cappuccino/expresso machine. I found lots of interesting drinks to try, hot and cold as well as lists and ideas for flavors to go with the drinks. I brought it home and read it, then tried several items all that same night.

Espresso Coffee : The Chemistry of Quality
What is the chemistry required for a great cup of espresso? Espresso Coffee has all the answers. Written by leading coffee technology specialists in consultation with some of the world's biggest coffee manufacturers, this informative book is beautifully illustrated throughout. A must for anyone working in or entering the coffee industry.

Espresso Coffee : Professional Techniques
Excellent resource for coffee professionals and beginners. The author has extensively researched his material and communicates clearly and concisely. Coffee professionals, baristas and those who love the art of coffee will find this book a resource they will return to over and over again. It will also serve as a tremendous training tool for those just starting out in the industry. The author also goes further than simply improving espresso techniques but also includes the importance of perfect milk frothing and steaming which directly influences the


Making Your Own Gourmet Coffee Drinks : Espressos, Cappuccinos, Lattes, Mochas, and More!
Mathew Tekulsky chronicles the history of coffee drinking, surveys the types of beans and blends available, reviews coffee-making accessories and their uses, and dispenses tips for brewing a perfect cup of smooth, flavorful coffee. An appendix lists sources for gourmet coffee beans and flavorings and coffee-making equipment.

Coffee Basics : A Quick and Easy Guide
Book Description Put your local coffee bar to the test with Coffee Basics! With thousands of coffee bars and restaurants serving an endless variety of blends, roasts, and brews, ordering a specialty coffee drink has become as daunting a task as selecting a fine wine. How can you distinguish between great coffee and great hype? Read Coffee Basics. Kevin Knox and Julie Sheldon Huffaker have filled this handy reference with hundreds of industry truths and trade secrets. You'll learn the fundamentals of coffee buying, brewing, and tasting; and develop an aficionado's ability to see beyond the expensive trappings of today's coffee explosion. You'll discover:

Specialty Coffee Drinks: Made At Home Simple And Easy-Video
About the Video : Once you've picked out your desired beans, tell your coffee bar attendant what type of espresso machine you have and he'll grind the coffee for you. Even small variations in grind can make a big difference in taste and performance. And, if you have a coffee grinder at home, even better because finely ground coffee becomes stale very quickly. One common mistake made in brewing espresso is to brew too much coffee from the same grounds. Brewing 2-3 ounces at once can make your espresso thin and bitter tasting. It's best to brew 1-2 ounces.

Putumayo Blend: Music of the Coffee Lands
The artists gathered together here hail from nations and cultures noted for the growing and export of coffee. Part of the proceeds from the album are earmarked for charity and any catchy idea that gets the music out there is a good thing. Like the luscious drink itself, the tunes come in many intensities and flavors, ranging from a light-as-air ditty from Peru, to the more complex vocal stylings of Colombia's Claudia Gomez, to Ricardo Lemvo and Makina Loca's earthy Afro-Cuban Congolese rumba. The album is a lively and fascinating travelogue, making landfall in Cuba, Kenya, Brazil, Uganda, Mexico, Zimbabwe, Costa Rica, Hawaii, and Peru. As with many other Putumayo projects, aside from its musical pleasures, this set would make an entertaining and educational experience for younger family members.
>>>>>>>>>>>>>>>>>>>>>>>>>>>>>>>>>>>>>>>>>>>>>>>>>>>>>>>>


Start and Run a Coffee Bar
Incredible...simply incredible!,
I am not a rich man so I try to be careful about buying new books. After I received this book in the mail I nearly read the whole thing in one sitting. I'll tell you...my worry was that this might be a standard "starting a small business" book with the occasional coffee reference thrown in, but it turned out to be quite the contrary. This is an incredibly detailed description of so many things that I never considered. This is one of the best and well-thought out books I've ever purchased. <<<<<<<<<<<<<<<<<<<<<<<<<<<<<<<<<<<<<<<<<<<<<<<<<<<<<<<<<<<<<<<<<<<<<<<<<<

Coffee: A Guide to Buying, Brewing, and Enjoying
Now in its 4th revised edition, Kenneth Davids's comprehensive and entertaining Coffee: A Guide to Buying Brewing, and Enjoying remains an invaluable resource for anyone who truly enjoys a good cup of coffee. It features updated information and definitions, a history of coffee culture, tips on storing and brewing, and other essential advice designed to improve the coffee experience. Coffee lovers everywhere will welcome this lively, complete guide to the fascinating world of America's national beverage.

The Espresso Bartenders Guide to Expresso Bartending
600 recipes will help those going into the business. This book is a must to have. I call it my Bible at the coffee shop. There are so many excellent recipes for coffee drinks, my customers want to try a new one every day. A MUST TO HAVE.

Great Coffee Book
While priced and sized like a trade paperback, The Great Coffee book combines the visual seduction of a coffee table book with first-rate, thoroughly up-to-date writing. The authors have the rare ability to distill vast experience into clear and concise prose, and their coffee selection and brewing suggestions guarantee the reader great coffee while helping them to avoid costly mistakes in coffee and equipment selections. The coffee recipes are among the best anywhere.

The Coffee Book: Anatomy of an Industry from Crop to the Last Drop
An engaging, informative look at one of the most popular products in the world. Jammed full of facts, figures, cartoons, and commentary, The Coffee Book covers coffee from its first use in Ethiopia in the 6th century A.D. to the dramatic rise of Starbucks and other specialty retailers in the 1990s. Written with verve and filled with little-known facts, the book explores the process of cultivation, harvesting, and roasting from bean to cup; surveys the social history of caf society from the first coffeehouses in Constantinople to Renaissance French cafs to beatnik havens in Berkeley and Greenwich Village; and tells the dramatic story of international trade and speculation for a product that can make or break entire national economies. The book also examines the industry's major players -- General Foods, Nestl, Proctor & Gamble -- revealing how they have systematically reduced the quality of the bean and turned a much-loved product into a lifestyle. Finally, The Coffee Book considers the exploitation of labor and damage to the environment that mass cultivation causes, and explores the growing "conscious coffee" market and "fair trade" movement.
Avg. Customer Rating: 4.9 out of 5 stars

Start Your Own Coffee & Tea Store (Start Your Own Business Series)
Although gourmet coffees command a price two to ten times higher than that of grocery brands, consumers seem happy to pay a premium price for that "perfect" cup of coffee. This book shows how, with minimal effort and a small investment, an individual can start his or her own full-time gourmet coffee and tea store.
Avg. Customer Rating: 3.0 out of 5 stars

The Restaurant Start-Up Guide: A 12-Month Plan for Successfully Starting a Restaurant
The Restaurant Start-Up Guide offers a practical what-to-do and when-to-do-it plan for getting started successfully in the restaurant business. Beginning at 12 months out, the authors take a step-by-step approach to all the many details of starting and running a restaurant. Anecdotes and tricks of the trade give readers a clear idea of what it takes to operate profitably for the long term.
Avg. Customer Rating: 4.9 out of 5 stars
---

Who Moved My Cheese?
An Amazing Way to Deal with Change in Your Work and in Your Life
Book Description:
A 1 hour read that could alter the way you deal with change.. for ever..

---

Perfect Timing :
Mastering Time Perception for Personal Excellence
Book Description:
Von Braschler shows us how to bend it to our will.
---

for Coffee Products
Machines -Super Automatics | Posters and prints | Cups | Specilaty Coffee | Roasters | Grinders
Done by